If you're active on the UNC 2022 social media pages, you've probably seen tons of your classmates meeting their new roomies and forming bonds and friendships. But you went random and you still haven't talked to the person you'll be sharing a room with for the next nine months – eek! Fear not, I'm here to tell you it's going to be okay, and share an awesome story of two girls who were in your exact shoes this time two years ago.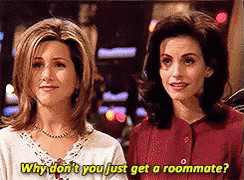 My Opinion
Okay so here's my (maybe unpopular) opinion: picking a roomie beforehand doesn't really affect anything. Yeah, it may ease your mind in the moments leading up to move-in, but once you get to college you're all on a level playing field.
When you pick a roommate, whether you do it through Facebook, the housing portal, someone you personally knew, etc., you were still in high school. No matter how much you fight it – college changes you. I'm not saying you'll have a major personality crisis but you'll definitely grow up a lot.
The best way I know how to put it is this: if my college self met my high school self, we wouldn't be friends. I have different routines, hobbies and interests – it just wouldn't work.
So choosing a roommate before you know how you'll behave in college is nearly impossible. And for a lot of people, they don't end up besties. But in most cases, they don't hate each other either. All the stories you've heard about bad roommate cases are rare, extreme situations.
Going Random
I personally didn't go random, and if I did it all over again I don't know if you could have convinced my high-school self to do it. Living with someone sounds like a big commitment and hating where you live sounds like a terrible experience, but like I said, that probably won't happen.
If you really think about it, you share a lot of qualities with all of your classmates. You're all coming to college for the same reason – to find your destiny, academically, athletically, or however it may be. You're all hoping to push yourself to become the very best versions of yourselves in the next four years before you step out into the world all alone. You're all nervous (whether or not you will admit it) to start this journey – it's a big step and it's totally normal to be nervous!
Who really cares whether you rush a sorority/fraternity, join a certain genre of club, practice a religion, are undecided or have picked your double major and minor, the list goes on… College is all about diversity, and I've found the most interesting conversations in the people the least like me, those are the kinds of people you can really learn something from.
Yes, sleeping schedules are important, maybe you can't sleep with the light on and your roommate wants to study six hours later into the night than you do. But we're all human. Start things off the right way, communication is key. Have an open conversation with your roommate and I'm sure they'd be happy to accommodate you as long as you're willing to accommodate them. That means maybe they study in the study lounge at nights and you quietly get ready for class in the bathroom while they're still snoozing in the mornings.
Meet Kate and Sarah
These two gals are two of my best friends. They're two of the only people I know that went random, and also two of the only people I know that had minimal roommate drama. They both had their own friend groups and didn't have to do everything together, but also genuinely got along together so well!
While Sarah studied for her hard-core math classes, Kate fell in love with ancient paintings in art history. They didn't take the same classes or even go to bed at the same time for that matter, but as roommates they worked.
"I went random because I didn't know anyone at UNC, and it turned out to be my greatest first-year experience" Kate said. "We're so different that we might never have met if we hadn't been paired and I'm SO glad we did."
It's the differences that brought them together, leading them to tons of late night life convos (that I 100% crashed probably too often). They didn't spend every waking minute together but they made tons of memories in suite 208.
It's cool to note that out of our HoJo suite, they are the only room that went random and the only pair that stayed together the following year!
Go random, don't – it's honestly all the same. Your roommate situation is what you make of it. Go in with an open mind and communicate often, you'll be okay and I promise your freshman roommate does not define your college experience unless you let it!