So your parents are coming to visit this weekend and you have no idea what you're going to do with them. Don't worry, while I'm technically a 21-year-old college student, at heart, I'm more like a 45-year-old father of three, so I'll know exactly what your parents will enjoy when they come to visit.UNC offers a variety of parent-friendly activities that will fill your weekend itinerary and distract from the looming conversation about your GPA. Check out some of these great options, and get to planning!
Wilson Library
Wilson Library is one of my favorite places on campus, not only because it's a beautiful, iconic building, but also because I'm a huge history nerd and they have great exhibits there. Some of my favorites were the "Sounds of '68" exhibit, the exhibit on the Daily Tar Heel and the student-curated exhibit on Mary Shelley's Frankenstein. All of the exhibits are very well-done and interesting, and it's a great way to learn more about North Carolina history.
The Carolina Basketball Museum
I firmly believe the Carolina Basketball Museum is one of the coolest things on campus. It's located on the first floor of the Ernie Williamson Athletics Center next to the Dean Dome and the Koury Natatorium and includes every ball from a UNC national championship (except for the one from 1924), championship rings, uniforms of some of UNC's most famous stars, the original floor of Carmichael Arena (the one Michael Jordan played on) and more. For anyone who loves sports and/or Carolina Basketball as much as I do, it's amazing and a must-see when you come to Chapel Hill.
Morehead Planetarium
I love space. I actually wanted to be an astronaut when I was younger, but then I realized that required both math and physical activity, neither of which I'm very fond of. That being said, I still love learning about space, and therefore I love Morehead Planetarium. Morehead Planetarium is a huge building on Franklin Street on the east side of campus that has planetarium shows where visitors can learn about the final frontier. Fun fact: 11 of the 12 astronauts who walked on the moon explored space in one of Morehead's shows, so if you go to one, you're basically an astronaut. Jokes aside, I definitely recommend checking this place out.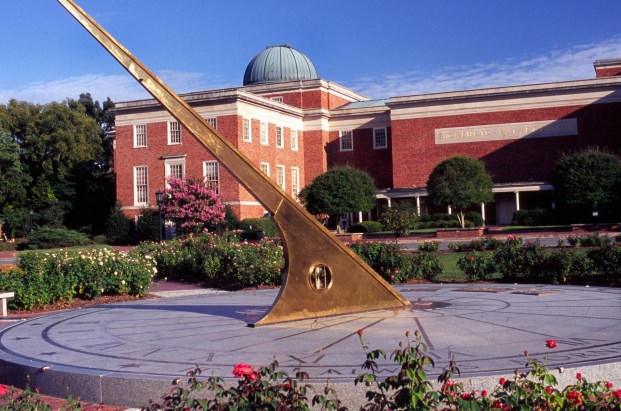 Ackland Art Museum
Ackland is located on South Columbia Street near Franklin and boasts a personal collection of nearly 18,000 works of art. Works being featured range from European masterworks to the pieces from the premier Asian Art collection in North Carolina to contemporary pieces. There's tons of beautiful art in these well-curated exhibits, and if you take your parents here, they'll think you're becoming cultured. It's a win-win.
Coker Arboretum
If you prefer to do something in the great outdoors, Coker Arboretum is located right next to Morehead Planetarium. It's part of the North Carolina Botanical Garden, and the large clearing in the middle is, by far, the best place to have a picnic on campus. I highly recommend taking your parents for a quick walk through the arboretum to see some beautiful plants and stall the inevitable question: "Do you think you'll make the Dean's List this semester?"