Carolina is full of personality to say the least. With that, there are tons of notable figures on campus that our students both worship and love to hate. We love our super successful alumni, but this one is for all the current Heels… Here's the ultimate breakdown of all the current UNC celebs!
Carol Folt
Of course, the first celebrity I had to mention is our beloved chancellor – Carol Folt. Always dressed to the nines (probably in some form of Carolina blue), Carol is the true QUEEN of UNC. She loves our school and it's students, and can be found supporting them at various events throughout the year, so stay alert because you never know where you'll see her! Also, if you see her – you HAVE to ask for a selfie, she loves taking them, and it's #81 on UNC's bucket list!
Roy Williams
Easily my fav celeb on this list is THE Roy Williams. He's only the coach of the greatest college basketball program of all time (Bias? Maybe a little, but that doesn't make it not true…). Let's just take a minute to acknowledge this man's coaching accomplishments.
Over 800 career wins
17-time regular season conference champion titles
7-time tournament conference champion titles
9 Final Fours
3 National Championships [1]
I have nothing else to say other than this Roy is an angel in human form and we LOVE him!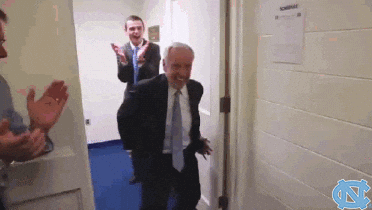 Any Basketball Player
Along those same lines, any player on the UNC basketball team is regarded as a celebrity on campus. They walk around like skyscrapers in a crowd, which makes them pretty easy to spot. I'm sure when they walk around campus they constantly hear "omg, there's Luke Maye/Kenny Williams/Cam Johnson/etc.", but that doesn't mean you shouldn't alert whoever you're walking with – it's the friendly thing to do, right?
Gary the Pit Preacher
Gary is a man that sits in the pit or the corner of the Quad and screams very radical religious statements at innocent passerby's. Regardless of your religious beliefs, its very amusing to sit and listen to his claims and watch people's reactions. Gary has become such a part of UNC culture that students have dressed up as him for Halloween!
Rumor has it that Gary has retired/is retiring soon, and many new pit preachers are surfacing to fill his shoes. But no one will ever replace Gary the original.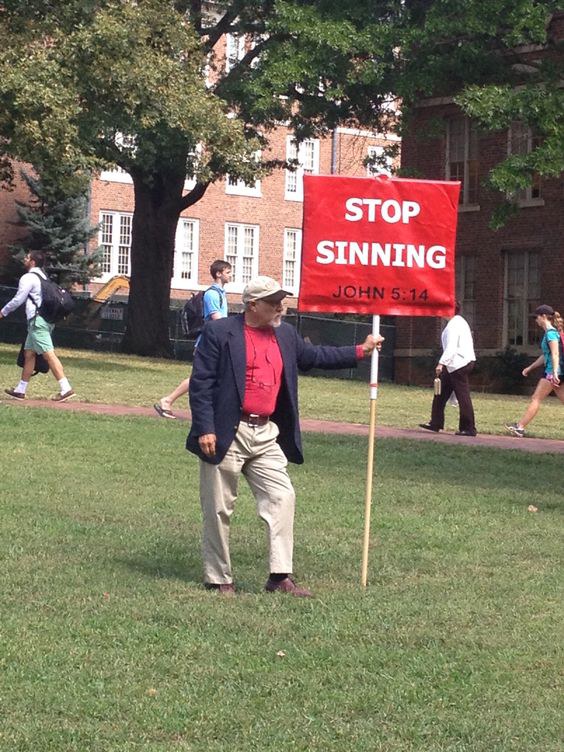 Quad Whistler
I'm not really sure if this counts as a notable figure since most wouldn't recognize him in person, but one thing is for sure – we've all heard that whistle. He strolls through McCorkle Place so often that you may think there's an automated whistling sound track running over some loud speakers in the quad.
Joann Traffic Guard
As you cross the streets of UNC, you'll often be greeted by traffic guards making sure you make it safely to the other side. Joann is one of these people, but she's incredibly special to the Carolina community. She will always respond to your "thank you", and always has a smile on her face – through rain or shine. Students are such a big fan of this hero that a GoFundMe page was started to fund Joann's travels to Arizona to visit her son. This fundraiser raised over $7700 – 11 times it's original goal of $700!
Dan Reichart
It seems fitting to end with another beloved, but less-known UNC hero. Before November of 2017, Dan Reichart was just a Physics and Astronomy Professor. But when there was an attempted bombing of the Davie Poplar tree, Reichart literally jumped in the fire to save the day. Surviving with second degree burns, the fire exploded on the professor as he was trying to extinguish it. We're so thankful for Reichart's actions in saving the momentous Carolina tree!
If I missed your favorite current UNC figure, let me know in the comments! And if you see any of these guys around campus this year, be sure to ask for a selfie 😊
[1] https://www.sports-reference.com/cbb/coaches/roy-williams-1.html