Before college, many people never experienced sharing a room with anyone. Even if they did, it was probably a sibling that they felt close enough to yell at or kick out when they needed their own space. So sharing a room with a peer can seem terrifying. But I promise, it doesn't have to be! You've heard all the horror stories of roommates that didn't get a long, so let's talk about all the ways that living with a roommate rocks.
You're never completely alone. 
As much as we all love and need our alone time, too much time spent by yourself can get very lonely, very fast. Odds are that you and your roommate's schedules won't perfectly match, and you'll both have a fair amount of time with the room to yourself.
At the same time, having someone to keep you company when you need can go a long way. It eases the homesickness and all the other struggles of college when there is someone else in the room. Even if you aren't talking the whole time, just knowing they're there for you and you aren't alone is incredibly soothing.
They understand what you're going through.
No matter how different your class schedules or backgrounds are, you are both going through the same stage of life – adjusting to college. And no one ever said this stage was easy. Just having someone to talk to and relate to makes you feel a lot less isolated when things get rough.
For every bad exam grade or long night studying, there's another student who feels your pain, and when it happens to be your roomie, that makes everything that much better.
They can help you with all your little struggles.
Key got stuck in the door? Scary bug eyeing you from the corner of the room? Locked yourself out? Can't reach the top shelf? Wind making scary noises? Seriously, what would we do without roomies to come to our rescue???
You always have someone to binge watch shows with.  
Because watching The Bachelor is so much better with someone to laugh at all the dorky contestants with. Sometimes you just need a break from studying and a good TV show with an eager roommate can be the perfect cure.
And drag along on other crazy adventures.
What would college be without crazy adventures? From Insomnia Cookies at times where you definitely should be sleeping to exploring Carolina's best kept secrets – memories much more fun when you have someone to make them with.
Plus, a roommate is much less likely to say no than a text to a random friend. I mean, how could they say no to your face when you have such convincing arguments that this adventure has to happen right now??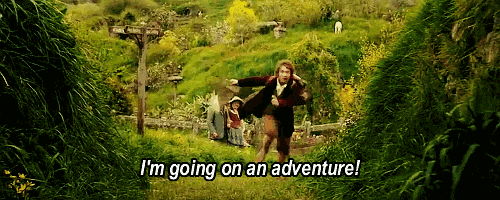 It's never just you two.
When you've had enough of your roommate, the beauty of residence halls is there are so many options of people to hang out with. Whether it's suitemates or hallmates, you're sure to find someone else in your building you click with when you need a little escape.
As much as you may think you'll hate sharing a room with someone, this is such an essential part of university life. A roommate is that person that doesn't have to be your best friend but will always be there for you no matter what. And the first weekend they leave you alone, I promise you'll be begging them to come home soon!