University life is portrayed in a specific way in pop culture, surrounded by tons of perceptions and expectations. But sometimes college doesn't live up to it's picture perfect stereotypes. And sometimes, it's SO much better. Here's my perspective on the reality behind college stereotypes.
Myth #1: You will hate your roommate.
Maybe you won't get along with your first ever roommate. It happens! But on the other hand, your roommate could be your best friend. I know tons of people who loved their freshman roommate and lived with them all four years. Sure, I've heard the occasional horror story, but they're not as common as you might think.
Being best friends with your freshman roommate and completely hating your roommate are two strong extremes, and from my experience, both are pretty rare. It's no surprise that people change a lot when they come to college and picking a roommate as a high-schooler can be extremely difficult when you don't know how you function as a college student. Odds are that you'll get along just fine, overcome any minor conflict, and have a great year together!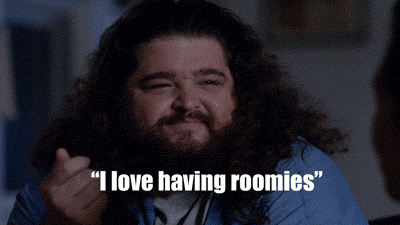 Myth #2: You get to skip class whenever you feel like it.
Actually attending classes is a must in college. Even in big lecture halls, a lot of professors have sign in sheets, use apps like 'Poll Everywhere', or assign random pop quizzes to record student's attendance. So if you think you can pass every class by only showing up on exam days, you might have to think again.
While this may seem like a hassle, at the end of the day it rewards students that show up. Many professors calculate attendance as a portion of your final grade, so having perfect attendance really does have its perks. It can easily be the difference between a 'B+' and an 'A-'!
Myth #3: Your dorm is going to feel like living in a shoe box.
Okay so your dorm room may not be as big as your master bedroom at home that you have all to yourself. But your space in your dorm really is what you make of it. It's definitely not at as small as what you're probably imagining. We've all been there, and we've all survived! Struggling? Read this article for tips!
My biggest piece of advice: don't. over. pack. I'm totally guilty of it, I hate leaving anything at home in the off chance that I'll be stuck in that one situation where I desperately need that specific item. But be practical! The more stuff you bring into your dorm, the more space you have to use to store it.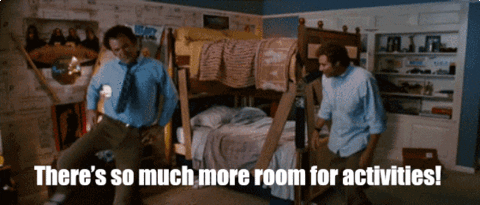 Myth #4: Sharing a bathroom sucks.
Whether you're living suite style or hall style, you'll have to share a bathroom with someone. It may take some adjusting not being able to shower whenever you feel like it, but typically you won't even notice! Hall style offers multiple showers per floor, so the likelihood of someone being in every shower at any given time is slim. In suite style you're sharing a bathroom with 3 to 7 other people, so communication is key!
If you're worried about your suite- or hall-mates making a mess, remember that in the 4-room suites and hall style buildings, we have an amazing cleaning staff that does the hard work for you! 2-room suites must be cleaned by the residents, but repeat: communication. is. key.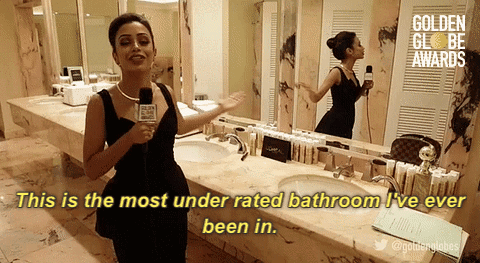 Myth #5: You will never get to sleep.
In college you'll definitely experience some long nights studying, especially when finals season rolls around. But the idea that all college kids 'never sleep' is completely false. I'm a girl who doesn't function well on no sleep, so getting rest is definitely a priority to me. Keeping an organized schedule and staying on top of your school work allows you to get the right amount of beauty sleep to keep you mentally sane.
I'm not saying it's always easy to get that full 8 hours, but it's for sure doable. Two keys to making time for a wholesome slumber – avoid procrastination and prioritize whats most important (even when that means sacrificing something you really want to do). Fact #1: You will have SO MUCH FUN!
The realest thing I've ever heard about college is that it is the best four years of your life. You will learn so much about yourself and change in more ways than you knew possible. You'll overcome very real challenges that will make you a stronger person. And at the end of the day, you will meet life-long besties and make unforgettable memories while finding your passions.
Everyone has a different college experience and it doesn't always play out like you may expect it to. The image of the perfect college life you have in your head very quickly might come crashing down when things aren't going the way you assumed they would. But you will get through it. And at the same time, you'll find joy in places you never expected to. After all, the unpredictability of it is part of what makes college so fun!